Southern California is home to a myriad of beautiful architecture. One of the most noteworthy home styles found throughout Southern California is the Spanish Colonial. Picture red terra cotta roofs, white walls, dark wooden accents, rounded doorways, and colorful tiles. Built primarily in the early 1900s, these houses were heavily influenced by Spanish and Mediterranean architecture, coupled with influence from Moorish, Pueblo and Mexican design. The homes built between 1600 and mid 1800s are known as Spanish Colonials, while the homes built in the early 1900s are known as Spanish Colonial Revivals. Within Los Angeles County alone, there are thousands of Spanish Colonials and Spanish Colonial Revivals that have been beautifully preserved and restored. Every so often, these beautiful homes come on the market for sale, and once again, we are transported back in time with these historic architectural masterpieces.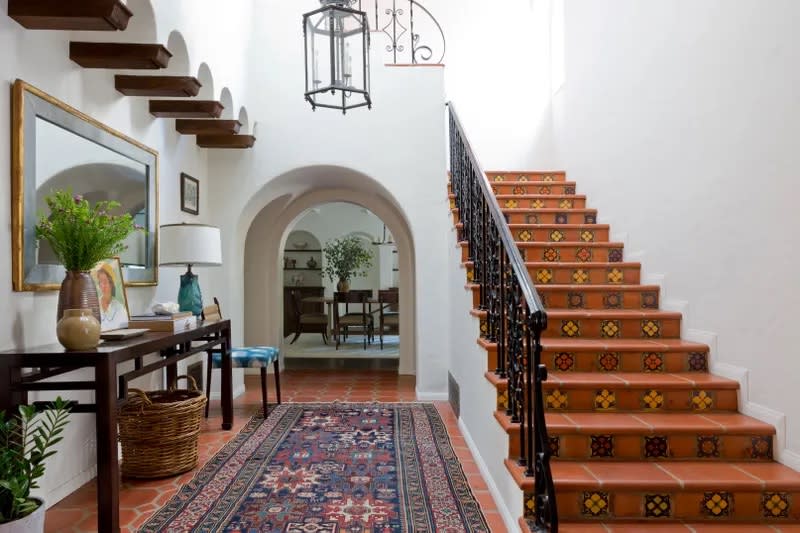 Key Factors of Spanish Colonial Homes:
Terra Cotta Roofs
Terra Cotta roofs are extremely popular in Southern California and are a key element to Spanish Colonial architecture. Terra Cotta roofing tiles are traditionally made from locally sourced clay, shaped into tiles, and then fired in a kiln. The natural material and vibrant red coloring contribute to the Spanish-Mediterranean appeal.
Thick, White Stucco Walls
White stucco walls are extremely common among Spanish Colonial architecture, as stucco was a resource readily available to Spanish settlers. Stucco is very suitable for hot, dry climates like Southern California. During the day, the thick, white walls keep cooler air circulating inside the home. When the outside temperature drops in the evening, the walls release heat back into the home that had accumulated within the walls during the day.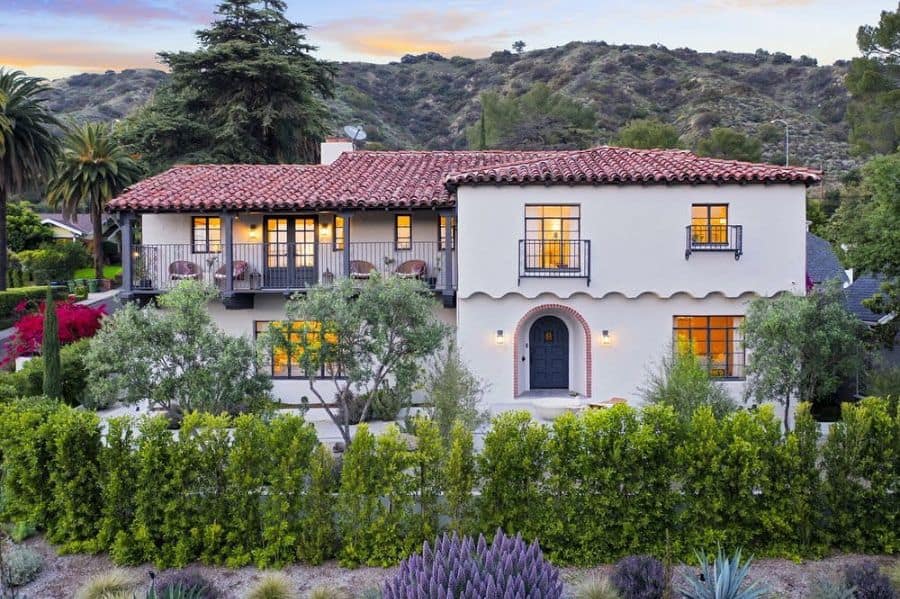 Rounded Doorways and Windows
Rounded entryways and windows are key components to Spanish Colonial homes. They are unique to the home style and provide a very charming aspect to the overall design. These rounded archways open up the interior layout and also contribute to the indoor-outdoor feel.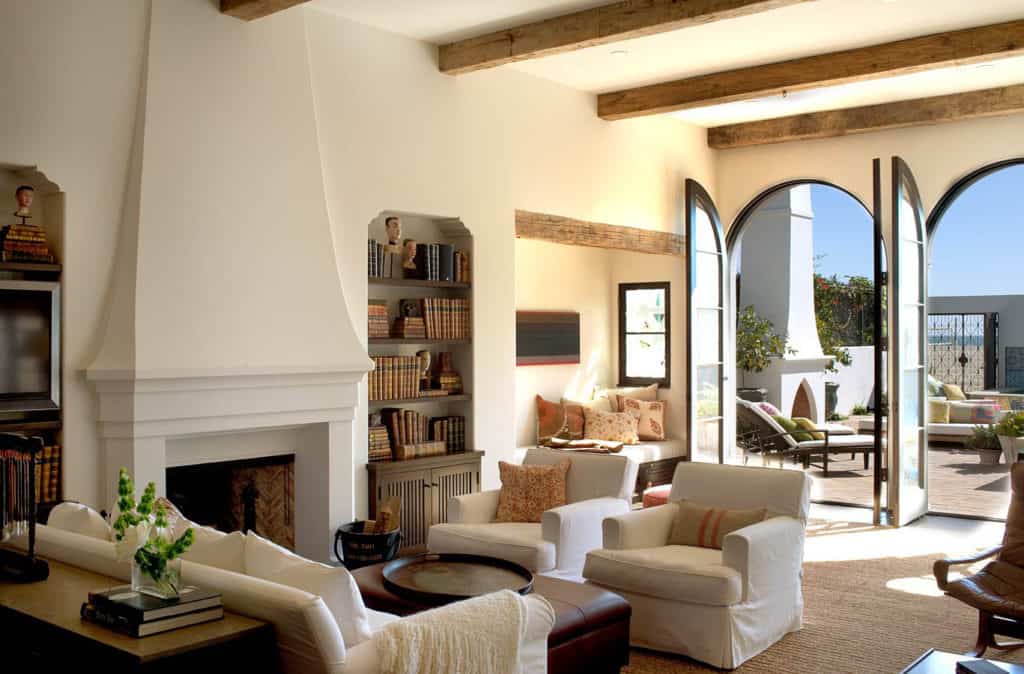 Exposed Wooden Beams
Exposed wooden beams are commonly found throughout these homes. While these wooden beams are functional, they are also beautiful in their design. They provide structural support to the homes while also providing a charming, mediterranean appeal. Many homes built today take influence from this architecture and install exposed wooden beams solely for decorative purposes.
Unique and Colorful Tiling
One of the most special aspects found within Spanish Colonial homes is the frequent use of colorful tiling. Bold, unique tiles are often found in kitchens, bathrooms, and within stairways. They provide a very special pop of color and vibrancy throughout the house, while also honoring the history behind the designs.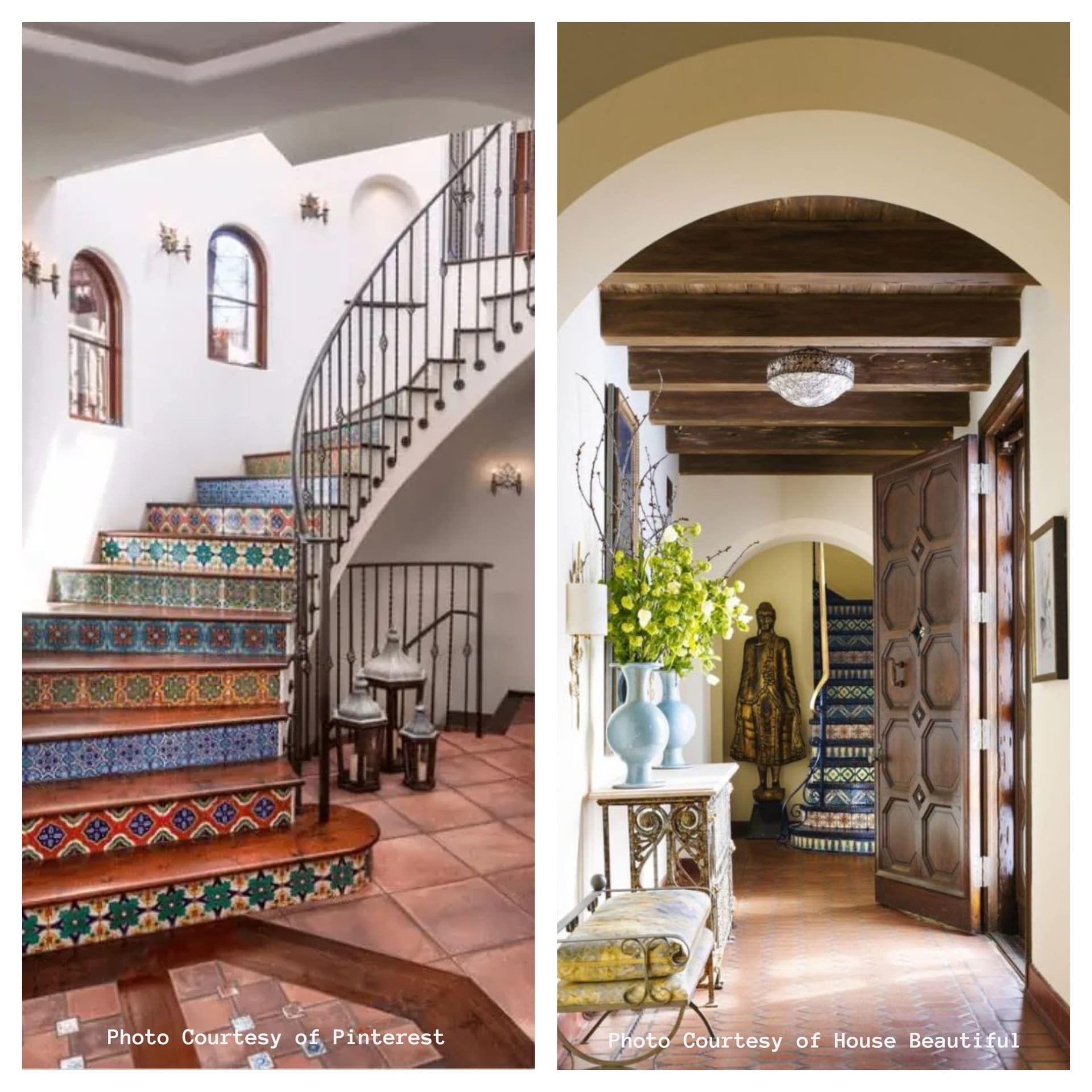 Spanish Colonial homes often embrace an indoor-outdoor living environment. Many of these homes have large porches with terra cotta tiles and rounded archways facing the yard. Many others have been designed with courtyards either in the center of the home, in the rear of the home or along the side of the home. Because this architecture is rooted in Spain and the Mediterranean, these homes embrace the warm weather and utilize indoor-outdoor living as much as possible.